Restaurants
During your stay in Mauritius, surprise your tastebuds at the five restaurants at 4* Lagoon Attitude hotel. Try local specialities one day, exotic Asian cuisine the next.
With chilled beach vibes on Mondays, Mauritian art on Tuesdays and Gala dinners on Wednesday, at the Lagoon Attitude, we offer, you choose. And always with fresh local produce as the star of the show, sourced from Mr and Mrs Mayaven, our partner farmers right here in Mauritius. Enjoy your meal!
Main restaurant

Discover the delights of local and international cuisine at Bénitier, the main restaurant at Lagoon Attitude hotel. Enjoy buffet breakfasts, lunches and dinners in a spacious room with exposed beams and large bay windows opening onto a tropical garden.
Themed evenings give you the opportunity to try a variety of new flavours.
Don't miss the Lagoon Gala Dinner on Wednesday, and the Mauritian night once a week!

Included in the Dine-Around.

Buffet

Themed evenings

Lagoon Gala Dinner on Wednesday (gala dress required)
Fish & seafood restaurant

Rattan woven in the style of fishermen's nets, natural wood, recycled metal, logs and a thatch roof. Welcome to Coral, a restaurant with a setting that blends elements of authentic local design. The menu is a mix of Mauritian and Mediterranean flavours and seafood specialties.

Included in the Dine-Around.

A la carte

Upon reservation

Dinner
Coral
Signature Dish
Mauritian Salad
Fried Chicken fillet, Pineapple, Avocado, Cherry tomato, Coconut, Spicy pecan nut, Honey and mustard vinaigrette.

Enhance this dish with Aperichy, a smooth and balanced wine with notes of ripe fruit, strawberry, cherry, and rose petal.

Asian cuisine

Appreciate the finesse and diversity of Asian cuisine at Lemongrass. Try Japanese, Indonesian and Thai specialties, in a space containing beautiful wrought iron furniture and a magnificent mural by local Mauritian artist, Evan Sohun.

A la carte

Arty & cosy vibe

At extra cost | Upon reservation
Signature Restaurant

For a 100% Mauritian culinary experience, a dinner at Kot Nou is unmissable. In a traditional atmosphere, discover the classics of Mauritian cuisine embellished with a touch of originality from our chef. Mauritian recipes, served tapas-style, allow you to discover the rich, multi-flavoured local cuisine. Ingredients such as caripoulé, margose and lalo will all delight curious tastebuds.

Included in the Dine-Around.

Tapas-style

Mauritian cuisine revisited

Lobster menu once a week (At extra cost)
Local street food

Our little street food truck, with its tin roof, is visited by locals who come here to buy snacks to eat on the go. Come and discover the joys of Taba-J, installed in the shade of a century-old Banyan tree. Rotis, faratas and curries: all kinds of typical Mauritian street food can be enjoyed outside in a chilled atmosphere. Don't miss the delicious dholl puris by Mr and Mrs Chetty, authentically homemade!

Local street food

BBQ lunch from 12:30pm to 3pm

Open daily


Bars
For drinks, you can choose a cosy, lively or romantic setting with an infinite view of the lagoon. Refresh yourself during the day or enjoy an evening aperitif at one of the five bars of the Lagoon Attitude hotel. A delicious moment of escape.
At Seabreeze, take in panoramic views of the hotel, swimming pool, beach and lagoon. Enveloped by a gentle sea breeze, sway in a hanging chair, stretch out in a deckchair by the pool or curl up on a bean-bag and toast the Indian Ocean.
Seabreeze
A must try!
Lovers of new flavours, be advised : Takamaka has something to surprise you with its unique wine made from locally harvested lychees!

Aperichy, Aquarel or Funky Parrot - the latter being included in the all-in all-out package - will surprise you with their fruity and exotic flavours that go particularly well with the spicy dishes typical of Mauritian gastronomy.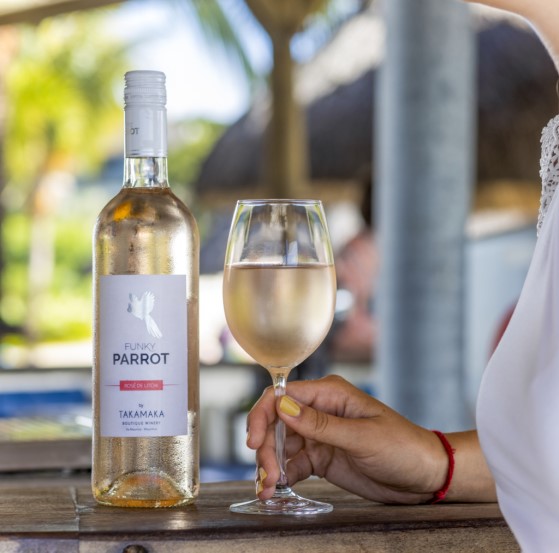 A chic, urban vibe in the tropics! Under a ravenale ceiling, sip an exotic cocktail and listen to talented local musicians. The Wave bar also welcomes guests in the morning for a good coffee before starting the day.
The Coral Bar has two spaces with two distinct vibes, depending on what you feel like: a cosy, intimate indoor lounge, or an outdoor terrace overlooking the lagoon and its islands. Open all day for tea and pastries, a quick lunch, cocktail or a local rum tasting, with an endless lagoon view!
Delight your tastebuds with delicious tropical juices and smoothies made with love at a Juice Bar. Since opening his first Juice kiosk in Port Louis over 20 years ago, Roshan, aka Mr Juice, has created many tasty concoctions always with local, seasonal fruit and vegetables grown by himself and local farmers : pineapple, bananas, ginger, carrot…

Today, taste his creative flavours at our new Juice Bar as ''Morning kick'', ''Nectar dream'' or ''Lychee on the cake'' and many more, to sparkle your day.
Each juice or smoothie sold is served in a cup in line with our zero single-use plastic commitment. Every sale will directly support Roshan's business.



At extra cost

Open from 10:00 to 17:00

Sunset happening, thrice a week


Teabaz
Welcome to Teabaz, our tea bar!

Mauritius is passionate about tea. Impossible to miss the teatime !
So we are happy to invite you to enjoy our self-service tea experience.

Tea bar

You will find a lovely selection of local teas and infusions. We have collaborated with Corson, a family business with the Made in Moris label, just like us, to create two signature flavours, Cardamom-Vanilla and Passion Fruit-Mango-Vanilla. And of course, they are served in in upcycled tea glasses.

We're committed to caring for the community, protecting the environment and supporting the local economy.
That's the spirit of Attitude, and also the spirit of Teabaz!

It is open every day from 10:30 to 18:00

P.S: Tea is a great gift to take back home – you will find our teas at Laboutik.