Restaurants
Whether it's international cuisine by the beach or Mauritian plates in a more intimate atmosphere, each restaurant at 3* Friday Attitude hotel offers a wide, exciting choice of flavours and universes. Which one will you test out first?
Main restaurant

Positioned right in front of Trou d'Eau Douce's magnificent white-sand beach, the 90° East restaurant at Friday Attitude is open for breakfast, lunch and dinner.
Its white furniture, thatched roof and exposed beams set the laid-back tone: here, we showcase local and international cuisine in a relaxed atmosphere.

Included in the Dine-Around.

Buffet

Local and international cuisine

Breakfast, lunch and dinner
Signature restaurant

To truly immerse yourself in the Mauritian lifestyle, visit Kot Nou. Welcoming you into a typically 'home-from-home' atmosphere, the restaurant's local cooking, with spicy and diverse dishes, is offered in the form of tapas. The many flavours allow you to delve into the richness of island cuisine !

Included in the Dine-Around.

Revisited Mauritian cuisine

Tapas style

Seasonal and local veggies
Kot Nou
Signature dish
The trio of Mauritian specialties;

zesty octopus salad, spicy fish vindaye, and smoked marlin roulade with bitter gourd.

Pairs perfectly with the Funky Parrot white wine and its very fruity aromas that enhance the flavors.

Street food

Taba-J offers an unmissable chance to stop and try typical Mauritian street food during your stay. A blue tin trailer parked between the WE Beach Bar and Ayo le Dodo kids' club, it offers you the best of local takeaway specialties: pepper cakes, rotis, dumplings or fried aubergine, all delicious and enjoyable on the go…

Mauritian street food

Tea time from 16:00 to 18:00


Bars
Friday Attitude's bars promise you a refreshing, musical and sociable break. The two bars have two distinct atmospheres – but still the same Friday feeling!
When visiting Le Patio, take advantage of the cosy space by sharing an aperitif with friends, and enjoy the musical entertainment. Perhaps you could even attempt Mauritius's famous sega dance as its namesake music plays?

Open from 6pm to 11.30pm
Le Patio
A must try!
Lovers of new flavours, be advised : Takamaka has something to surprise you with its unique wine made from locally harvested lychees!

Aperichy, Aquarel or Funky Parrot - the latter being included in the all-in all-out package - will surprise you with their fruity and exotic flavours that go particularly well with the spicy dishes typical of Mauritian gastronomy.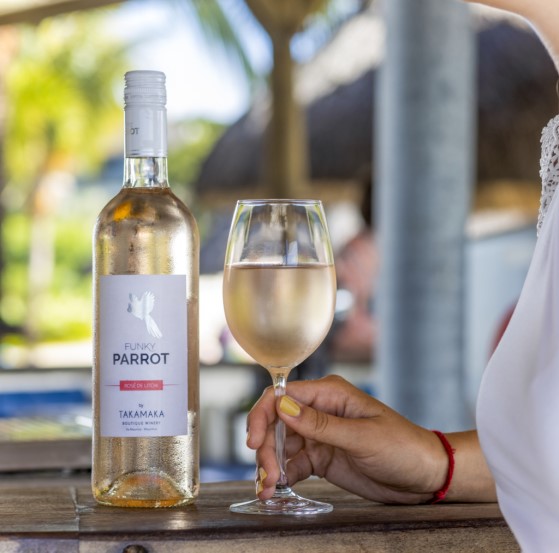 What could be better than unwinding at a bar with your toes in the sand? At the WE Beach Lounge, that feeling is permanently in weekend mode thanks to a relaxed, trendy atmosphere. Thank goodness it's Friday!

Open from 11am to 11.30pm


Teabaz
Welcome to Teabaz, our tea bar!

Mauritius is passionate about tea and teatime is sacred!
So we are happy to invite you to enjoy our self-service tea experience.

Tea bar

Here a lovely selection of local teas and infusions. Not to be missed: our two signature flavours, Cardamom-Vanilla and Passion Fruit-Mango-Vanilla, produced by Corson, a family business with the Made in Moris label, just like us. And of course, they are served in in upcycled tea glasses.

A visit to the island can leave a positive impact. We're committed to caring for the community, protecting the environment and supporting the local economy.
That's the spirit of Attitude, and also the spirit of Teabaz!

Open every day from 10:30 to 18:00.

P.S: Tea is a great gift to take back home – you will find our teas at Laboutik.